All boots on deck
NASA's Arctic voyage resumes
By Kathryn Hansen, NASA Earth Science News Team On location in the Arctic
DUTCH HARBOR, Alaska — On June 25, NASA's ICESCAPE mission, short for "Impacts of Climate on Ecosystems and Chemistry of the Arctic Pacific Environment," set sail from Dutch Harbor, Alaska, aboard the U.S. Coast Guard Cutter Healy. At 8 a.m. local time, the icebreaker, scientists and crew forged north, marking the start to NASA's 2011 ICESCAPE voyage. The ship-based mission is studying the effect of climate change in the Chukchi and Beaufort Seas along Alaska's western and northern coasts. For five weeks, 47 scientists will live, eat and breathe the Arctic.
The goal, simply, is to collect data from ocean and sea ice stations to find out how changes in the Arctic — particularly the changing sea ice — affect the ocean's chemistry and ecosystems. It's a job that NASA does from space, providing coverage over the entire Arctic region. To better understand what satellites see, however, we need boots on deck and on the ice to tease out the Earth system's complex connections and processes.
A few final glances back to shore and we turn our sights ahead. For five weeks we'll be living together, eating together, and executing a well choreographed dance of data collection and analysis.
Editor's note: Here on Big Fat Planet, we'll be picking up some of the blog posts from the ICESCAPE blog, and offering a behind-the-scenes look at Arctic ice science and icebreaking adventures, as well as some Arctic history. For full coverage, see the ICESCAPE blog here.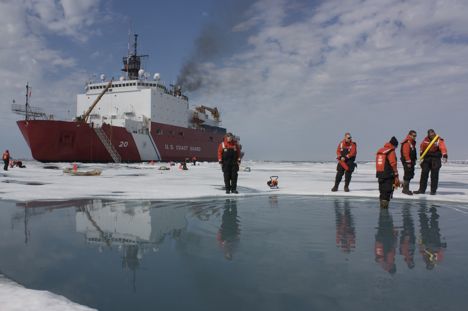 Adapted from the NASA ICESCAPE blog.