Bolt from the blue
Lightning never strikes twice, but ...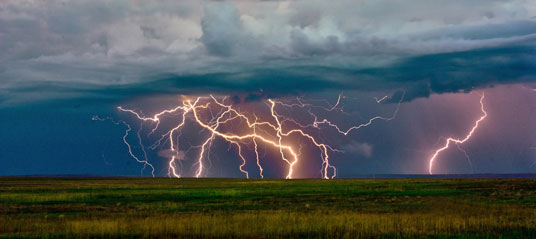 From Gretchen Cook-Anderson, NASA Earth Science News Team
Though the old adage that lightning never strikes twice generally rings true, apparently lightning can strike in very short order in more than a dozen points alongside one another as it did near Keota, Colorado on August 6, 2010. Photographer Robert Arn captured this bedazzling time-lapsed display of lightning over less than 30 seconds across Pawnee National Grasslands while awaiting darkness to fall at a stargazing party.
Speaking of flashes of brilliance, far from the prairies and big skies of the Plains, NASA's Lightning Instrument Package, or LIP, flew aboard an unmanned, storm-chasing Global Hawk aircraft earlier this month over the Gulf of Mexico and the Atlantic Ocean detecting and documenting lightning during intensifying hurricanes. LIP and 14 other instruments were part of the Genesis and Rapid Intensification Process mission, commonly called GRIP, which drew to a close this week. Scientists expect the GRIP field experiments will eventually yield the most comprehensive data about hurricanes to date once scientists analyze 40 flight days' worth of new information.
NASA's Earth Science Picture of the Day website featured the white lightning strikes above on September 7, 2010. To see more images recorded by amateur and professional photographers and to learn more about Earth Science Picture of the Day, click here.
Cross-posted from What on Earth. Gretchen is based in Chicago.