Pick of the pics
Out of Africa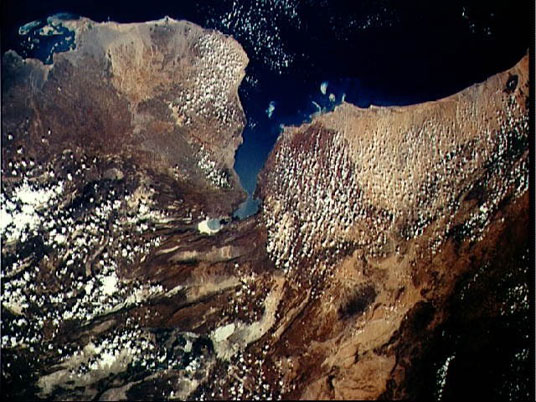 The images above and below show Afar from afar — that is, the Afar Triangle in Ethiopia, a fascinating place. The tectonic plates underneath the region are very active, moving in three different directions, which has caused the Afar region to be stretched thin and torn. These "tears" can be seen in the image above as a number of faults that look like long parallel valleys, along which lava flows. This picture was taken from the Space Shuttle.
The more artsy image below is a thermal-infrared composite picture taken from NASA's spaceborne ASTER instrument. It shows color variations that are mainly due to rock and soil composition differences. Areas shown in the red hues on the left and right sides are probably underlain by rocks with high silicon-dioxide content, whereas those areas appearing white and lavender in the central part are primarily made up of basaltic lava flows and cinder cone deposits.
Afar is a hotbed not just for geology, but also for evolution. Our evolution. Back in 1974, the first skeleton of the hominid species Australopithecus Afarensis was discovered in the Middle Awash of the Afar Triangle. She was named Lucy and her age was put at between 3 and 3.9 million years. In 1998, a one-million-year-old Homo skull, (a mixture of Homo erectus and our species, Homo sapiens) was discovered in Afar. As were some of the oldest human remains, dating from around 160,000 years ago. The astonishing finds made in the Afar rift valley have given weight to the idea that modern humans evolved out of Africa.