A wave of optimism at the United Nations climate summit in Paris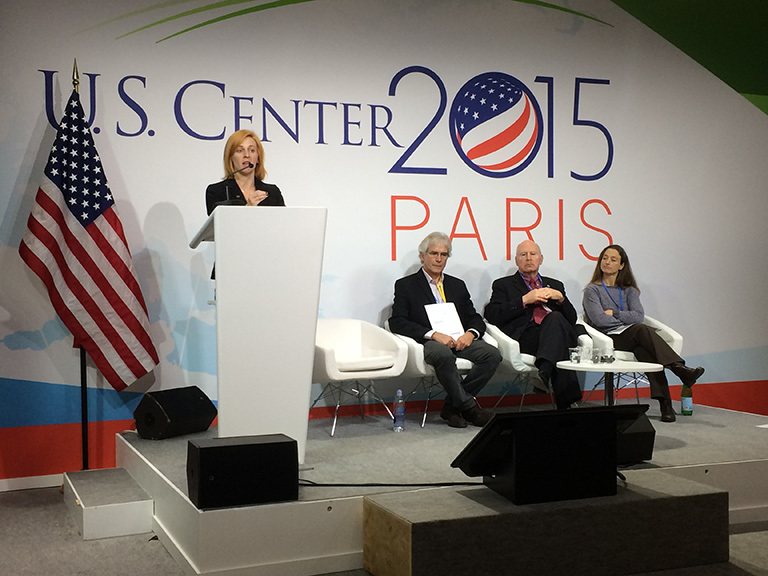 Think back to when you were a kid imagining what you were going to be when you grew up. You dreamt that someday, somehow, you would make a difference, a contribution, that your work would be meaningful in the world. If you accomplished this today, how pumped would you be?
"This is going to sound really cheesy and lame," NASA oceanographer Michelle Gierach told me over a Skype call from COP21 in Paris, "but I just get a sense of pride being from the U.S. and being a cool NASA representative and seeing people get excited about what we do. In my day-to-day job, I sometimes forget how much Americans and international people from everywhere love to know what we're doing. It reinvigorates a sense of pride in NASA's work."
Because of the nine-hour time difference, I was barely awake for our call, and through my morning mental blur I wondered for a moment if the glee in her voice had something to do with the fact that I'm a fantastic person and she was thrilled to be speaking with me, or perhaps she was hopped up on chocolate. "They give you chocolate bars every day!" she squealed. "I'm not lying, and it's really good chocolate."
But it was the conference, COP21, the 21st Conference of the Parties of the U.N. Framework Convention on Climate Change, that had her all giddy. You see, after so many years of stagnation, resistance and even moving backwards, finally, finally there seems to be movement toward global action against climate change. Yes, it's baby steps, and yes, there's more work to do, "but some movement is significant," she stressed. "I'll take it."
All of us are hungry for something positive. Always. Especially now, since most of the news lately has been such a total bummer. A positive message around climate could be that bump in optimism that we all need right now.
The U.N. COP21 meeting in Paris began on Nov. 30, and by this Friday, Dec. 11, 195 member nations hope to reach a unanimous agreement to cut greenhouse gas emissions, hold global warming to 2 degrees Celsius or even lower and provide financial support to developing nations so they can bypass fossil fuels.
It's hard not to feel optimistic. Part of you wants to get your hopes up, but you also don't want to be disappointed, because for so many years there's been so much disappointment. Then there's that part of you that says, This time is different. This time we can do it. Gierach told me that she felt an energy about reaching an outcome at COP21. The overall vibe is "completely optimistic, everybody wants to do something, everybody knows we have to do something. There's a 'let's do it' kind of attitude."
Hyper about the hyperwall
Last week we'd spoken about her upcoming trip. She had conflicted feelings due to the recent events in Paris and was concerned about a heightened state of worry and icky vibes. "As a NASA representative," she explained, "my role is to show what NASA is doing with regards to climate change, even though I'm not a delegate or a policy maker. I was so excited to go, and now I'm just not so excited about it anymore." But what a difference one week and a few thousand miles made. From the conference her voice sounded triumphant: "Everybody here wants to show that it's not going to stop what they're trying to do here. It hasn't stopped it at all."
Gierach also told me she was "super excited that this time around it finally seems people are listening. People see that the oceans are part of a massive system and actually are a significant reason we haven't had a more extreme temperature rise. That message seems to be getting out there." She's been talking about the oceans every day on NASA's hyperwall, an ultra-high resolution visualization that combines nine computer monitors into a giant screen that plays animations in tandem.
On Dec. 3, she joined a panel called "Oceans under pressure" to discuss the following main points of consensus that we can see from satellites:
The sea surface temperature record shows that the ocean is warming, which clearly impacts Arctic sea ice reduction, the different types of sea ice, and ice sheet reduction.
Sea level rise is not equal around the globe; for example, the western tropical Pacific has much higher sea level rise than the eastern equatorial Pacific.
And because a significant portion of the conference is dedicated to carbon emissions, she's also talking about the interaction between the ocean and the atmosphere and how carbon dioxide transfers between the two.
Just before we hung up, she added, with power in her voice like a chant or rally call, "Yeah, we're here and we're going to do something. We're not just speaking; we're actually acting and showing that we're acting."
Watch the live stream from the U.S. Center at COP-21 in Paris here.
Watch the "Oceans Under Pressure" panel with panelists Jean-Pierre Gattuso, IDDRI/CNRS; Jean-Pierre Gattuso, IDDRI/CNRS; Alexander MacDonald, NOAA; Michelle Gierach, NASA; Cassandra deYoung, FAO here.
Thank you so much for reading,
Laura
P.S. Michelle was totally inspired by President Obama's speech and said, "Regardless of what people may think, he is trying to make the world a better place. It made me extremely proud to be part of the United States and have him as our president." Watch the speech here.