Blog
| November 17, 2010, 16:00 PST
Pick of the pics
Jewel in the desert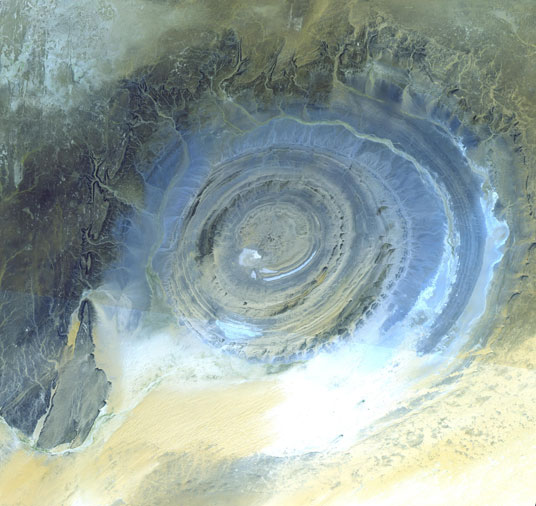 This image of the Richat Structure, Oudane, Mauritania, taken by the NASA/Japan ASTER instrument on October 7, 2000, is a landmark for space shuttle crews. It shows a prominent circular feature in the Sahara desert of Mauritania, something that has attracted attention since the earliest space missions because it forms a conspicuous bull's-eye in the otherwise rather featureless expanse of the desert.
The feature, which has a diameter of almost 50 kilometers or 30 miles, was initially interpreted as a meteorite impact site because of its high degree of circularity. However, now it is thought to be merely the result of geological processes — a symmetrical uplift of tectonic plates that increased the elevation of the land, which has since been laid bare by erosion. The structure is outlined by beds of ancient quartzite (sandstone-derived rock) from the Paleozoic era about 250 to 550 million years ago. The image you see covers an area of 45 x 47 kilometers.
---
This blog is moderated to remove spam, trolling and solicitations from this government website. We do our best to approve comments as quickly as possible.