Blog
| November 21, 2014, 07:21 PST
This Thanksgiving food model is the CATS meow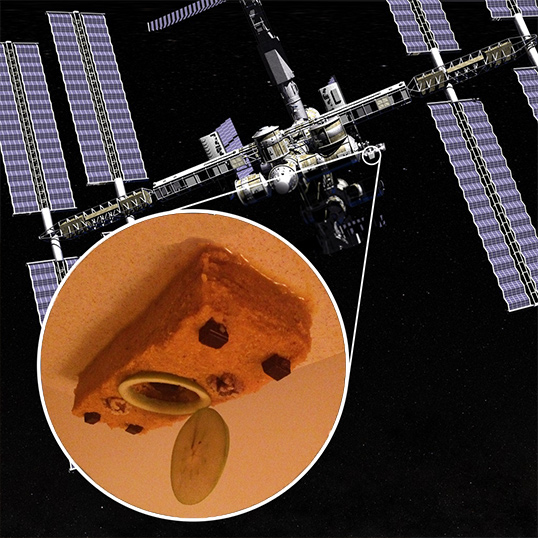 Thanksgiving is all about celebrating traditions. In this big year for Earth science at NASA, we started celebrating our own new tradition by creating an edible satellite model for each of the five new missions being launched this year. Cloud-Aerosol Transport System, or CATS, is the next Earth science mission slated to launch aboard an uncrewed SpaceX Dragon spacecraft on December 16. CATS is a lidar instrument that will measure clouds, pollution, dust, smoke and other particulates in the atmosphere. A "lidar" measures distance by illuminating a target with a laser and analyzing the reflected light. The instrument will be mounted on the International Space Station's Japanese Experiment Module-Exposed Facility (JEM-EF).
In the Thanksgiving spirit, I made an edible CATS model out of the best ingredients of a Thanksgiving feast: the desserts! The instrument's body is pumpkin pie filling made of pumpkin purée, the two high repetition rate lasers are walnuts, the telescope is made of apples and chocolate and the mounting feet that hold the payload to the launch vehicle are also made of chocolate. As with all the other edible models I've made, my family actually ate everything, and no food was wasted.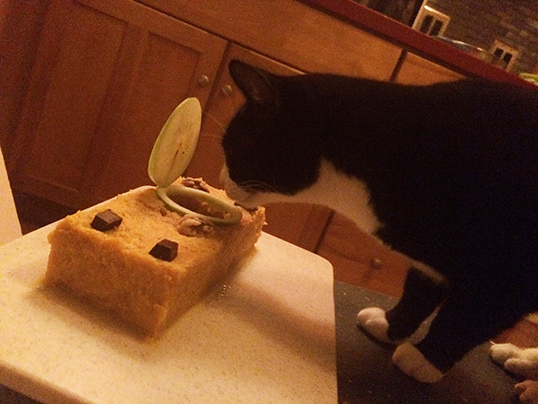 This Thanksgiving, I'm thankful that more and more of you care so much about this amazing planet we share.
Go ahead: Make your own NASA CATS model and share your photos in the comments section. You can learn more about the instrument here and here.
Also check out my edible GPM, OCO-2 and ISS-RapidScat models.
I look forward to your comments and creativity.
Laura
The CATS instrument was developed and built at NASA's Goddard Space Flight Center in Greenbelt, Md., and is part of NASA's Earth Right Now campaign, a series of five Earth science missions that will be launched into space in the same year, opening new and improved remote eyes to monitor our changing planet.
---
This blog is moderated to remove spam, trolling and solicitations from this government website. We do our best to approve comments as quickly as possible.