Coastal Consequences of Sea Level Rise
[[MODULE||PBSModules.HeaderTabs||3||5]] 
How can we support students' understanding of climate science, and their ability to evaluate climate change data reported in the media? Review the following lesson plans and think about how would you augment them to incorporate some of the information you have learned and resources you have explored in this module.
Global Climate Change: Understanding the Greenhouse Effect This lesson plan for grades 6-12 enables students to understand how global climate changes affects their lives.
Global Climate Change: The Effects of Global Warming This lesson plan for grades 9-12 delves into the effects of global warming and the connection to atmospheric levels of CO2.
Review your understanding of what you have learned in this module about sea level rise and its consequences by viewing this moving and beautiful video, "Planet Earth - the water planet."
Now test what you know about sea levels and climate change with the Sea Level Quiz How did you do?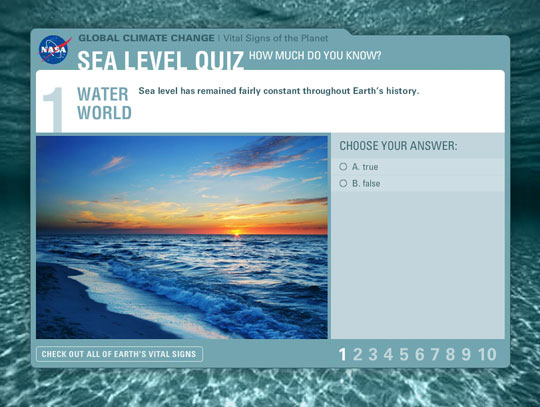 Finish this module by reflecting on what you have learned and making a plan for future professional development.
What resources would you consider using from this module in your classroom? What questions do you still have related to coastal consequences of sea level rise?
Congratulations on completing this module! You have explored techniques, strategies, and readings that will improve your STEM instruction and facilitate students' understanding of global climate change. We recommend that you continue to look for opportunities to use NASA resources and primary data to involve students in relevant problem-based learning.
NASA wants to hear about your experience in this module. Please complete the Short Term Experience - Educator End of Event Survey. This survey is anonymous.
We hope you will consider taking another global climate change module from PBS and NASA and online courses from PBS TeacherLine to increase your knowledge about STEM instruction and global climate change.
[[MODULE||PBSModules.Footer||3]]