News
| August 18, 2009
New vision for 'Eyes on the Earth'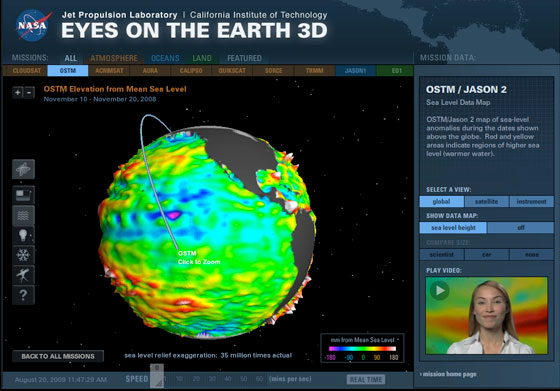 NASA's "Eyes on the Earth 3D" is back and better than ever before. This online experience now offers new features that allow users to view the latest data beamed back from NASA space satellites - in some cases, less than a few hours old.
Developed using a state-of-the-art, browser-based visualization technology, "Eyes on the Earth 3D" displays the location of all of NASA's 15 currently operating Earth-observing missions in real time. These missions constantly monitor our planet's vital signs, such as sea level height, concentration of carbon dioxide in our atmosphere, global temperatures and extent of sea ice in the Arctic, to name but a few.
By using the new toolbar on the left of the screen, users can display the latest data maps of ozone, sea level or carbon dioxide. Also new is a video tour hosted by NASA Jet Propulsion Laboratory's Amber Jenkins, who introduces many of the site's in-depth features and capabilities.
Users can:
Fly along with a satellite as it sweeps the Earth below in accelerated time.
Compare the size of each spacecraft to a car or a scientist.
Blast through a global carbon dioxide map to uncover some of the world's most populous and polluting cities in the interactive game, "Metropolis."
Click here
to launch "Eyes on the Earth 3D" in your web browser. Have fun!