"If you release the fly bar too early," explains Richie Gaona, fourth-generation trapeze artist turned trainer, "your trick will go long and you risk banging into the catcher." We are standing near the net talking about timing. He tosses a gardening glove into the air. It spins and lands a few feet away.
"If you hold on too long, then your trick is short and you'll miss." Someone brings back the glove and he throws it again. It goes up spinning, but this time travels backwards. "If you let go at just the right moment, you get vertical lift, then a moment of stillness and end up a perfect arm's distance from the catcher." The glove goes up, spins twice, and lands squarely where he intended with a satisfying plunk.
When people find out that I work at NASA and fly trapeze, they're surprised that I have such diverse interests. I don't see it that way: It's the same sky, just a different type of rocket.
Richie's "timing" explanation uses the same principles of physics that NASA uses to deploy many of its spacecraft. A combination of physics and timing is what accounted for the tight 30-second launch window of NASA's Orbiting Carbon Observatory-2 (OCO-2) earlier this month. OCO-2 must arrive in the A-Train lineup as precisely as a trapeze artist performing a complex acrobatic trick. Two other NASA Earth science missions launching this year, ISS-RapidScat and CATS, will exploit the same science and math equations for their meticulous rendezvous with the International Space Station (ISS).
I never did run away to join the circus. But Kristin Finley, the girl I stood next to for so many years on the platform (just another term for "launch pad"), made it all the way to the top. Although our journeys seem like worlds apart, they're actually more like a parallel universe.
To me, NASA is enough like soaring through the air, shooting for the sky and flirting with the forces of gravity. And even though Kristin has traveled all around the globe, just like one of NASA's Earth-orbiting satellites, the trapeze troupe she performs with came back into town this week.
So, for a day I ran away (a couple miles downtown, actually) to get swept up in flight, up in the air, thrusting into space and reaching for the sky.
Why do trapeze artists do what they do? The same reason we do what we do at NASA. It's the attraction to what seems impossible; the relationship with space, to leave the ground and go upward, going as high as you can; to push boundaries using a combination of physics and sheer determination.
We push ourselves for the pure joy of pushing, and the hope that those who watch will be moved and inspired; that someone, somewhere, might see what we're doing and consider pushing beyond their perceived limits, real or otherwise.
As always, I look forward to your comments.
Laura
OCO-2, ISS-RapidScat and CATS are part of NASA's Earth Right Now campaign, a series of five Earth science missions that will be launched into space in the same year, opening new and improved remote eyes to monitor our changing planet.
Dear Earth Right Now blog readers,
I appreciate you. I appreciate that you take the time to read these blog posts and that many of you like them, share them and even comment on them. I know it might seem like at NASA we are all a bunch of super intelligent, creative, intuitive space people, but in reality, we're just like you. We have ups and downs, good days and rough patches. Often it's the things that appear small that can be inspiring and meaningful, too.
I spend a large portion of my workday looking at satellite images of Earth, an amazingly glorious expanded view. This view from far above gives me a unique window into places on our planet that I haven't been to, or places that maybe I'll never ever go. It's like looking at life or life's problems from a distance can actually put everything into perspective.
All of us—you and I—we are together on this planet. We don't need to travel very far to get excited. We can be astounded by what's here.
Thanks to all of you again!
Laura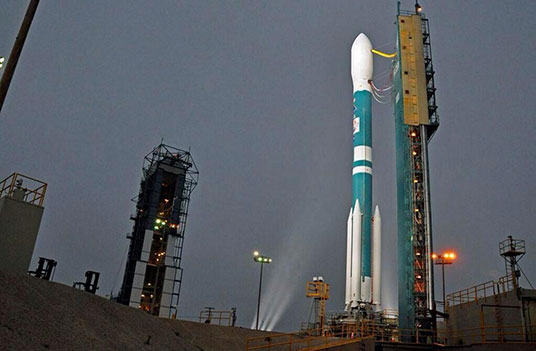 There we stood for the second night in a row, looking into the distance at 2:30 in the morning, feeling the cool, still quiet of the nighttime air. Just like last night, I wasn't tired at all. It was probably cautious optimism giving me just enough energy to stay alert. We could hear the live broadcast of the Orbiting Carbon Observatory-2 (OCO-2) launch over the NASA Television feed. Those of us still in town and eager to wake up in the middle of the night to watch the launch could see live, up-close shots of the Delta II rocket on the launch pad (which stood just west of where I was standing), intercut with views of what was going on in the control room at Vandenberg Air Force Base. We could hear the launch team as it went through its list of final preparations. We could hear the final countdown.
At 2:56 a.m. PDT (5:56 a.m. EDT), OCO-2 lifted off on a United Launch Alliance Delta II rocket. My eyes strained to follow the rocket into the sky. If you were one of the people who watched the launch on NASA Television from home instead of being closer to the action like I was, you probably had just as good a view. Unlike two nights ago, which was clear, the California marine layer moved in last night, making it hard to see much.
I remained still, looking skyward, breathing, wondering, quiet. I could hear NASA TV tracking the rocket into the night sky. I thought about all of the knowledge that science has given us, and all that we have yet to learn. A camera installed on the launch vehicle showed the observatory smoothly separating from the rocket's second stage. A few minutes later, ground- and space-based antennas detected signals telling us that the observatory unfurled its twin sets of solar arrays. OCO-2 will join its sister satellites, the fleet of Earth-observing missions that help us understand the mysteries of the planet we call home.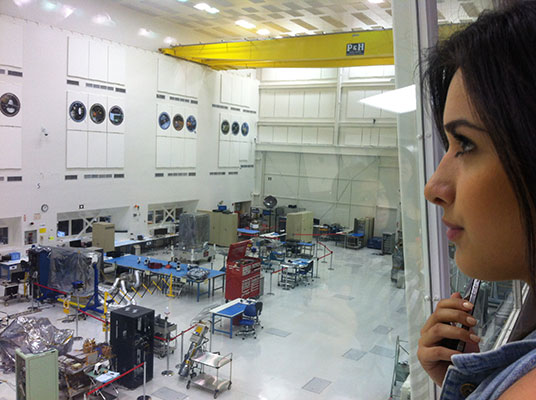 My thoughts meandered back to the many times I looked down from the high bay at JPL's Spacecraft Assembly Facility, often bringing my college students there. Now both OCO-2 and the students would pass their tests and graduate at nearly the same time. NASA's mission is "to reach for new heights and reveal the unknown so that what we do and learn will benefit all humankind." But we also seek to inspire. We seek to inspire people all around the world, to inspire future scientists and engineers, and even to inspire ourselves.
I stayed awake for another hour or so watching the commentary on NASA TV. As I rested my head on my pillow at around 4:00 a.m., I was left alone with my thoughts of the night sky, and of the vastness of space, the wonder of new frontiers of science and my dreams of inspiration.
Thank you for your comments and have a wonderful and safe 4th of July holiday.
Laura
Find out more about the science, spacecraft and instrument at Orbiting Carbon Observatory-2 (OCO-2).
OCO-2 is part of NASA's Earth Right Now campaign, a series of five Earth science missions that will be launched into space in the same year, opening new and improved remote eyes to monitor our changing planet.