Blog
| December 19, 2014, 08:47 PST
Coming soon: CATS in space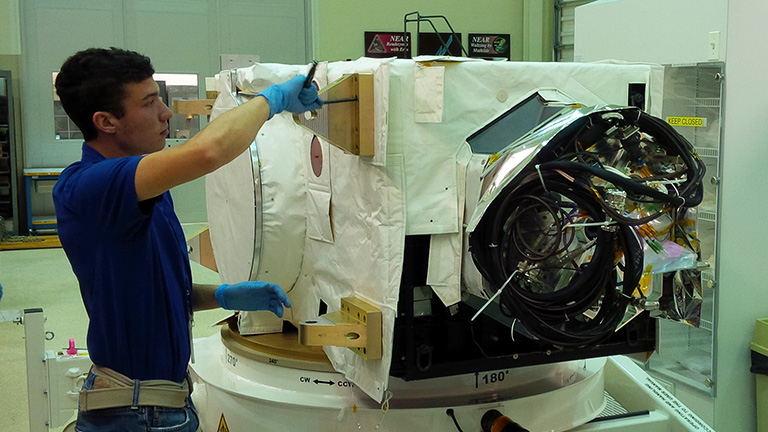 As you know, the Internet was created so people could watch cat videos. And now felines are aiming to pounce right into the middle of some NASA space action, too. Well, sort of.
"CATS" stands for "Cloud-Aerosol Transport System" and is the next NASA Earth science mission slated to launch aboard an uncrewed SpaceX Dragon spacecraft headed for the International Space Station, where it will be mounted on the Japanese Experiment Module-Exposed Facility (JEM-EF) to measure pollution, dust and smoke in the atmosphere.
Kyle Guzek was part of the design team that worked on the instrument, which is scheduled to launch Jan. 6. A sophomore studying mechanical engineering at Howard Community College in Columbia, Md., Guzek began working on CATS as a junior mechanical draftsman while he was still in high school. He participated in the thermal testing of the instrument in the Applied Physics Laboratory.
"When we started on CATS," he told me "there were design problems, and we had to keep working until we found design solutions." Through the process, Kyle said, he learned not to dwell on challenges and problems and to move toward solutions to those problems.
Guzek will be watching CATS launch at a viewing party at NASA's Goddard Space Flight Center in Greenbelt, Md. "I'm probably going to jump for joy, and cry. No, I won't cry, but I'll be jumping for joy."
Find out more about CATS here and here.
I look forward to your comments.
Laura
The CATS instrument was developed and built at NASA's Goddard Space Flight Center in Greenbelt, Md., and is part of NASA's Earth Right Now campaign, a series of five Earth science missions that will be launched into space in the same year, opening new and improved remote eyes to monitor our changing planet.
---
---
This blog is moderated to remove spam, trolling and solicitations from this government website. We do our best to approve comments as quickly as possible.