Blog
| February 20, 2014, 13:55 PST
Jazzed about GPM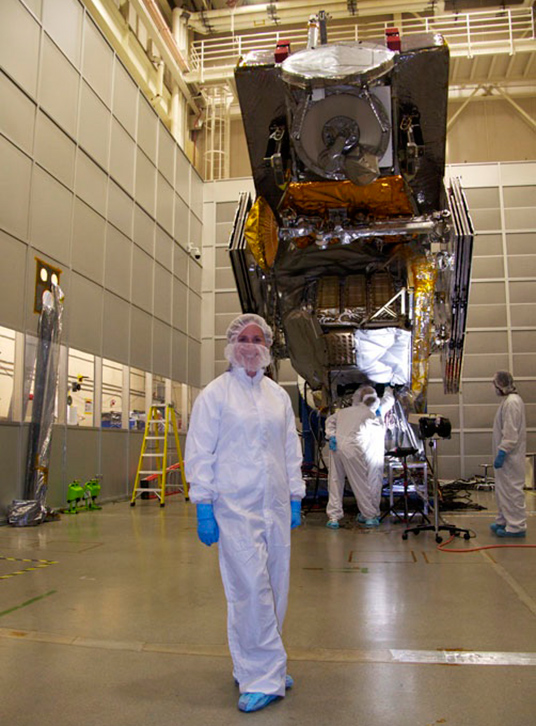 NASA's Earth Science satellite Global Precipitation Measurement (GPM) is about to launch next week and, believe me, all of us at NASA are totally psyched. I paid tribute to the event last week by making and eating a health-food model of the GPM satellite.
Dalia Kirschbaum, application scientist for the mission, is way cooler than I am, though. She actually busted out a NASA bunny suit and went inside the clean room at Goddard Space Flight Center as the instrument was being built.
"It was pretty awesome to be next to such a big satellite," she told me as we were chatting the other day. "With its solar array unfolded, it's the size of a small corporate jet and is the largest satellite ever built and assembled at Goddard."
Clean room and bunny suit aside, what Dalia is most excited about is getting her hands on the data. "I need this data; we all need this data," she said. For the past 16 years, she and many other NASA scientists have relied on amazing tropical rainfall data from NASA's TRMM satellite. GPM goes a step further, though, by expanding rainfall measurements beyond the tropics.
"GPM is so cool," Dalia went on. "It sees precipitation in 3D through the clouds from the ground all the way to the top of the atmosphere."
Dalia's area of expertise is in landslides, which occur on saturated hills. They are frequent, damaging, and a "really big deal," causing lots of damage and blocking roads for days. A landslide can be as small as a retaining wall in your backyard or a large one that kills thousands of people at once.
As an application scientist for GPM, part of Dalia's job will be to help take GPM satellite data and make sure weather forecasters, agricultural communities and disaster response teams know how to access it. She's been talking up GPM to a variety of audiences, from elementary students to the general public, explaining with enthusiasm all the reasons why NASA does what it does and how people all around the world are impacted by a seemingly random satellite.
Dalia Kirschbaum will be co-hosting live coverage of the launch on NASA TV. Join her at www.nasa.gov/multimedia/nasatv on Thursday, Feb. 27, at 1:07 EST. Live coverage starts one hour before launch.
Laura
---
---
This blog is moderated to remove spam, trolling and solicitations from this government website. We do our best to approve comments as quickly as possible.