October 21, 2019, 09:04 PDT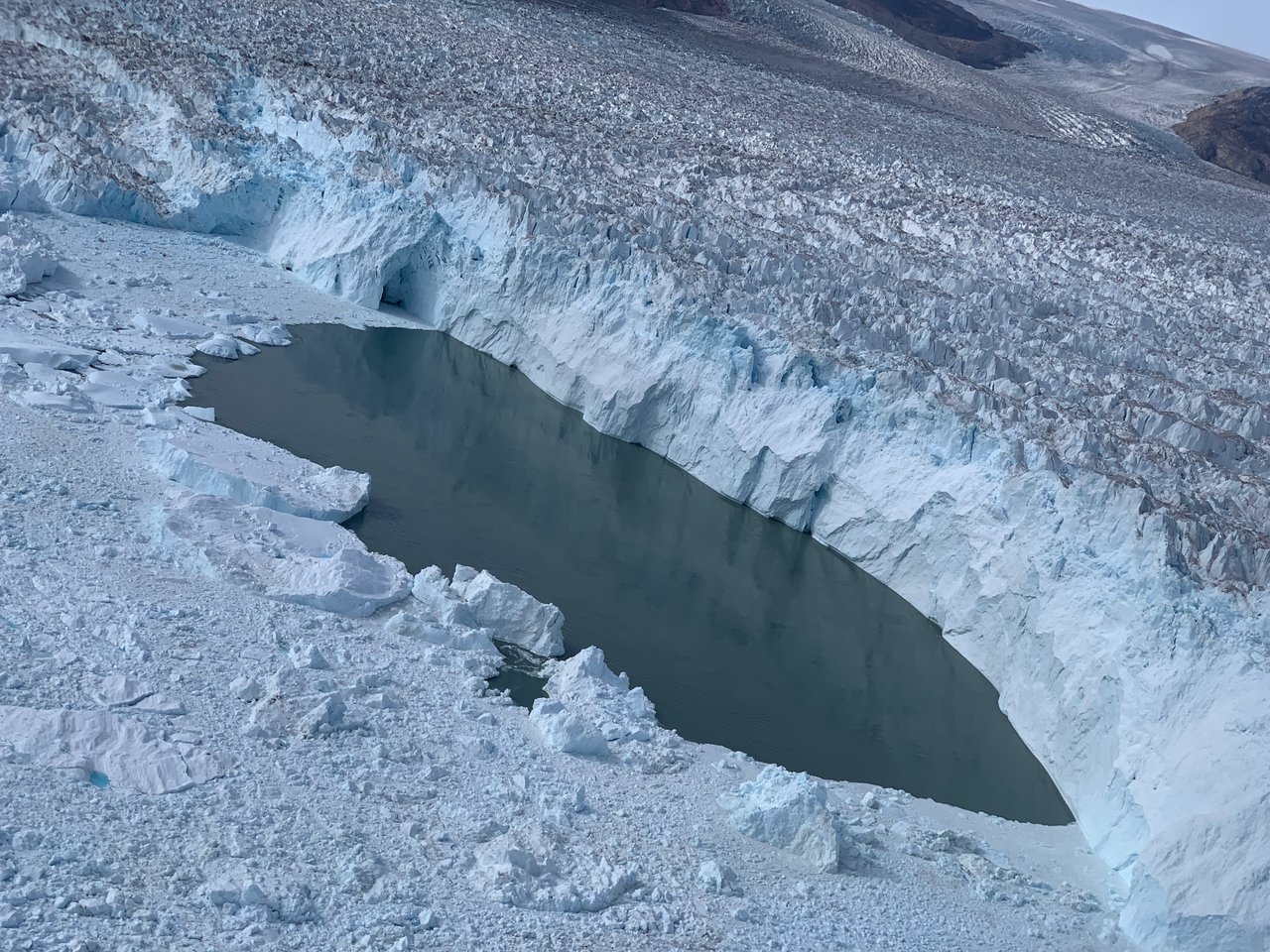 In March, a NASA-led research team announced that Jakobshavn Isbrae, Greenland's fastest-flowing and thinning glacier over the past two decades, is now flowing more slowly, thickening and advancing toward the ocean instead of retreating farther inland.
On the surface, that sounds like great news. After all, if this glacial behemoth, which drains seven percent of Greenland, is slowing, certainly that must mean that global warming is also slowing, right?
Wrong. The findings have been interpreted that way by some, suggesting that the study results were evidence that global warming is slowing or stopping. However, the facts paint a different picture, as a quick review of the study's key findings illustrates. To recap:
The recent changes in Jakobshavn, located on Greenland's west coast, are attributed to the 2016 cooling of an ocean current that carries water to the glacier's ocean face, likely due to a shift in the North Atlantic Oscillation (NAO) that took place in 2015. The NAO is an oceanic climate pattern that causes northern Atlantic water temperatures to alternate between warm and cold every five to 20 years. The glacier's dramatic slowdown coincided with the arrival of the cooler waters near Jakobshavn that summer.
Water temperatures near the glacier are now colder than they've been since the mid-1980s. The colder water isn't melting the ice at the front of and beneath the glacier as quickly as the warmer water did.
Jakobshavn's changes are temporary. When the NAO flips again, the glacier will most likely resume accelerating and thinning, as warm waters return to continue melting it from beneath.
Following the study's publication, additional analyses show Jakobshavn grew thicker by 22 and 33 yards (20 to 30 meters) each year from 2016 to 2019.
How Ocean Temperatures Impact Greenland's Glaciers
Many factors can speed up or slow down a glacier's rate of ice loss. These include the shape of the bedrock under it and along its sides, short-term variations in ocean temperature and circulation, air temperature and precipitation and climate change. To better understand the role ocean temperatures play, four years ago NASA launched the Oceans Melting Greenland (OMG) campaign to measure ocean temperature and salinity around Greenland.
While Greenland is an island, it's surrounded by a continental shelf beneath the ocean surface. The shelf forms a natural barrier that keeps the deeper, warmer waters of the Atlantic from reaching parts of the Greenland coast. Near the coast, the average ocean depth is about 1,300 to 1,600 feet (400 to 500 meters), whereas in the deep ocean, 30 to 200 miles (50 to 320 kilometers) offshore, waters usually reach depths of around 13,100 feet (4,000 meters).
However, deep underwater canyons cut through the continental shelf, allowing the faces of many Greenland glaciers to sit in warm, deep water. A key OMG objective has been to conduct the most comprehensive mapping to date of the sea floor around Greenland to see where these canyons are located. As a result, we now know just how many glaciers sit in deep water, how deep the water is, and how fjords around Greenland connect to warm offshore waters.
"We've filled in huge gaps in our knowledge of the sea floor depth around Greenland," said OMG Principal Investigator and study co-author Josh Willis of NASA's Jet Propulsion Laboratory in Pasadena, California. "Some of the glaciers sit in about 3,300 feet (1,000 meters) of water, the equivalent of 10 football fields below the surface. In fact, everything we've found suggests Greenland's glaciers are more threatened than we expected."
"Everything we've found suggests Greenland's glaciers are more threatened than we expected."
Parsing Out the Facts About Jakobshavn
While Jakobshavn's behavior may be confusing to some, there is no evidence that its growth is indicative of any slowdown in global warming. Global carbon dioxide concentrations aren't dropping, global atmospheric and ocean temperatures aren't dropping and global sea levels aren't falling. In fact, all evidence points strongly in the opposite direction.
What the current events at Jakobshavn do show us is that, in addition to the longer-term changes happening to Earth due to human-produced emissions of greenhouse gases, natural processes, such as ocean oscillations, also play key roles in the shorter-term changes we're observing on our planet.
"The NAO is a cycle that's been going back and forth for centuries," said Willis. "There's no evidence that it or other climate cycles like the Pacific Decadal Oscillation or El Niño are going to stop. The last time the NAO switched to a warm phase was in the mid- to early-90s. So we expect it to switch again, sometime between now and the next 15 years. That's one of the reasons why studies like OMG are so important. At the end of the day, Greenland is still losing ice, other Greenland glaciers are still retreating and the oceans are warming."
The bottom line for Jakobshavn is that it is still a major contributor to sea level rise and it continues to lose more ice mass than it's gaining.
What's Ahead for OMG?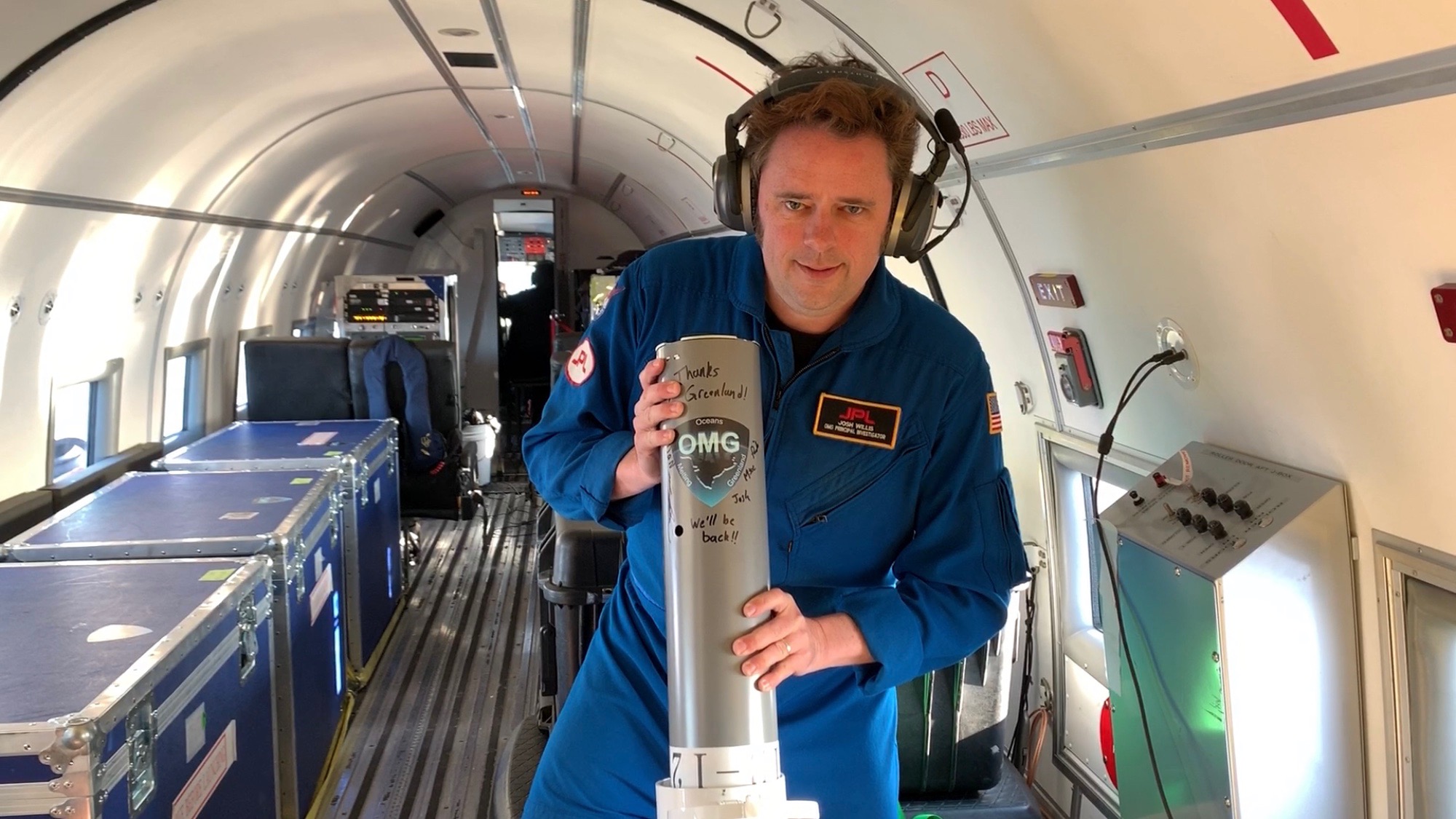 In early August, the OMG team arrived in Greenland to begin its fourth year of ocean surveys to see how the water is changing. The start of this year's survey came on the heels of a record melting event in late July and early August. The team again dropped sensors in front of Jakobshavn to see if the water is still cold and whether we can expect another year of growth, or for it to resume retreating. The investigation also examined whether the NAO shift is impacting other glaciers.
Within the next year and a half, the OMG team will complete its comprehensive categorization of all of Greenland's 200-plus glaciers to quantify the role the ocean is playing in their retreat and how much ice the island is losing because of it. Willis says the team also plans to look at data from the NASA/German Gravity Recovery and Climate Experiment (GRACE) Follow-On mission to see whether the NAO's impact is big enough to affect the ice sheet's overall mass balance.
"If we're lucky, OMG may also catch the reversal of the cooling signal now impacting Jakobshavn," he said. "That will tell us what happens when the glaciers start to retreat again as warm water comes back, and just how sensitive the whole thing is to the water. Understanding these natural fluctuations will help us calibrate how Greenland's ice is going to behave in the long run."
April 10, 2019, 13:30 PDT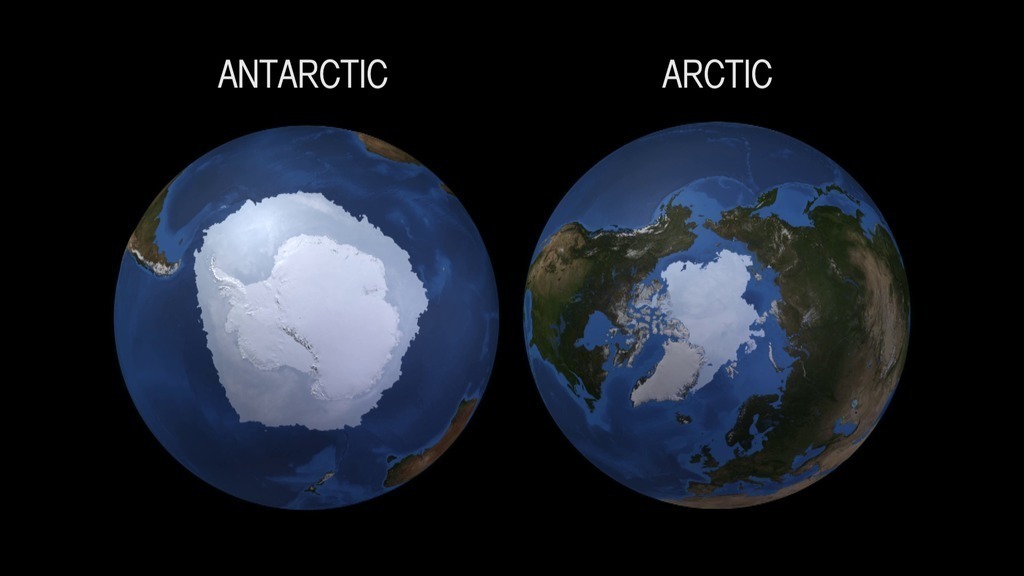 We often get questions from readers about Earth's sea ice in the Arctic and the Antarctic, and the differences between those areas. Arctic sea ice has declined over the past five decades, while Antarctic sea ice has increased, and then declined. Why do they behave differently?
How They're Different
The primary difference between the Arctic and Antarctica is geographical. The Arctic is an ocean, covered by a thin layer of perennial sea ice and surrounded by land. ("Perennial" refers to the oldest and thickest sea ice.) Antarctica, on the other hand, is a continent, covered by a very thick ice cap and surrounded by a rim of sea ice and the Southern Ocean.
The Arctic Ocean is very deep and closely linked with the climate systems around it, making it more sensitive to climate changes than Antarctica.
During the centuries of human exploration in the Arctic, sea ice covered the Arctic Ocean well year-round, up until recent decades. But satellite observations show that Arctic sea ice has been declining in extent*, thickness and volume since 1979.1 Average Arctic sea ice extent is at its lowest since 1850.
During the summer melt season, the sea ice's edge retreats toward the North Pole, only to re-grow during the Arctic winter. As a result of ongoing warming driven by human activities, the trend toward summer sea ice loss (from July to September, followed by a winter re-growth) continues.
Recent research suggests that there is a relationship between Arctic sea ice losses and the human burning of fossil fuels in all months.2 Aerosols (tiny particles suspended in the atmosphere) tied to human activities have offset some of the Arctic sea ice extent loss trend; a reduction in aerosol pollution will likely see a sea ice loss acceleration.3 Ice loss at the sea ice's margins** results in winds driving warmer water beneath the Arctic sea ice, increasing the amount of heat the Arctic Ocean stores 4 and priming conditions for further sea ice loss.
A figure showing current Arctic sea ice extent can be found here.
Antarctic Sea Ice
Antarctic sea ice expands during the winter, only to melt back largely to the continent's edge in summer.
Antarctic sea ice extent is currently below the long-term average of all decades prior since 1979. Previously, Antarctic sea ice extent had been above that long-term average due to long-term, large-scale wind circulation patterns that drove sea ice away from Antarctica5, making room for more sea ice to form nearer to the continent.6 Climate models, or computer simulations that incorporate all the factors that affect Earth's climate, predicted this behavior.7 These long-term wind patterns reversed several years ago, resulting in a significant sea ice decline surrounding Antarctica. Values since then have been hovering around the average of all years prior in the satellite record. A figure showing current Antarctic sea ice extent can be found here.
Why Sea Ice Matters
Some of the questions we receive ask why we should care about the polar regions. These regions are very important in regulating global temperature. Because sea ice has a bright surface, 50-70 percent of incoming energy is reflected back into space. As sea ice melts in the summer, it exposes the dark ocean surface. Instead of reflecting 50-70 percent of the sunlight, it absorbs 90 percent of the sunlight. As the ocean warms, global temperatures rise further.
Also, what happens in the polar regions doesn't stay in those regions. Their changes affect global temperatures and can even change ocean circulation. Earth's sea ice is very attuned and responsive to even small changes in global surface and ocean temperatures.
Learn More
References
*Sea ice extent is a measurement of the area of ocean where there is at least some sea ice.
**Margins are transition regions between the ice-covered and ice-free portions of the ocean.
November 6, 2018, 10:06 PST

My name is Mandy Bayha, and I am from a small community called Délįnę [pronounced De-lee-nay] in Canada's Northwest Territories. With a population of about 500, the community is nestled on the shores of the southwest Keith arm of the beautiful Great Bear Lake. The Sahtúotįnę (which means "people of Great Bear Lake") have been its only inhabitants since time immemorial. The community is rich in culture and language and has a deep sense of love and connection to the land, especially the lake.
I am an environmental science and conservation biology student and the indigenous healing coordinator (an initiative called "Sahtúotįnę Nats'eju") for the Délįnę Got'įnę government. Under the guidance and mentorship of the elders, knowledge holders, and my community's leadership, I have been tasked to facilitate and implement a pilot project that aims to bridge the gap between traditional knowledge and western knowledge to create a seamless and holistic approach to health and wellness.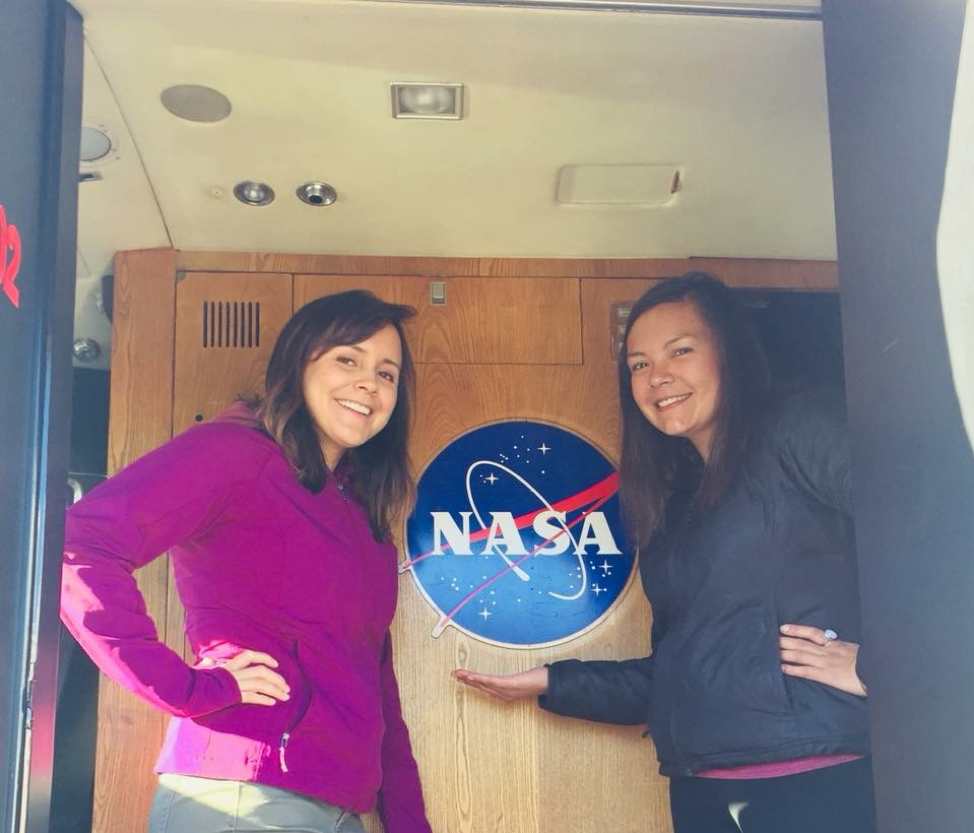 Traditional knowledge is relevant to everything we do, from healing, governance, and environmental management to early childhood development and education. Traditional knowledge encompasses virtually every human relationship and dynamic and outlines our relationships with each another, our Mother Earth, and our creator. As our elders say, "We are the land and the land is us. The land provides everything to us and is like a mother to us all and we all come from her." We believe everything is interconnected and in a constant relationship, forever and always.
On August 20, I traveled to Yellowknife to participate in the Arctic-Boreal Vulnerability Experiment, or ABoVE. Currently in its second year, this 10-year project is focused on the Arctic's vulnerability and resilience and on understanding climate change's effects on such a delicate ecosystem. ABoVE is important because it can provide a holistic view of climate change in the north by bringing together two knowledge systems: western science and the traditional knowledge of my ancestors. In fact, the project's first guiding principle is to "recognize the value of traditional knowledge as a systematic way of thinking [that] will enhance and illuminate our understanding of the Arctic environment and promote a more complete knowledge base."
I was able to participate in this incredible opportunity with a fellow Délįnę woman named Joanne Speakman, who is also an environmental science student. Our first day started on August 22, bright and early at 8 o'clock in the morning. We met the flight team at the Adlair Aviation hanger to undergo a safety briefing and egress training. It was like walking into a scene from the movie Armageddon.
The two ex-U.S. Air Force test pilots were speaking a technical language riddled in codes, and the remote sensing engineers were spouting their checks and balances. I was thrilled to be surrounded by NASA employees all adorned in patches, jumpsuits, and ball caps. Afterward, Dr. Peter Griffith, the project lead, explained everything to Joanne and me in plain language. We then took a tour of the plane and learned how to exit in the unlikely event of an emergency. We were treated so nicely, and I felt more than welcome to participate.
We were invited to sit in a jump seat situated right behind the pilots during take-off and landing. Joanne got take-off and I got landing. What an experience that was! During our four-hour flight, which took us from Yellowknife to Scotty Creek (a permafrost research site near Fort Simpson), Kakisa, Fort Providence, and back to Yellowknife, Dr. Griffith sat with us and explained the ABoVE project. He gave us background on how the "lines"—the strips of areas that were scanned by the radar—were chosen and filled us in on research done in those areas previously, such as major burn sites, permafrost melt, carbon cycling, and methane levels. He referred to pictures while explaining how certain equipment as well as ground data calibration and validation techniques were used.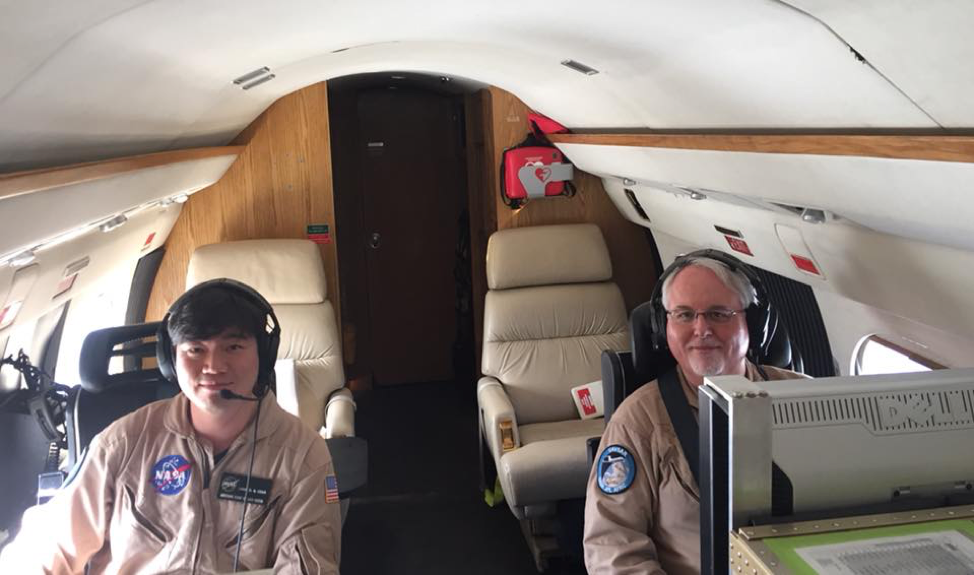 We also chatted with engineers from NASA's Jet Propulsion Laboratory in Pasadena, California, who manned the remote sensing station on the flight. They explained that the remote sensing equipment, which was welded to the bottom of the Gulfstream III jet, is made of many tiny sensors that send signals to the ground that bounce back to a receiving antenna on the aircraft.
The resulting data tell a story of what is happening on Earth's surface, revealing features such as inundation (marshy areas where vegetation is saturated with water) and the rocky topography from the great Canadian shield, for example. The sensor they're using is called an L-band synthetic aperture radar (SAR), which has a long wavelength ideal for penetrating the active layer in the soil. This is important for many reasons but mainly for indicating soil moisture.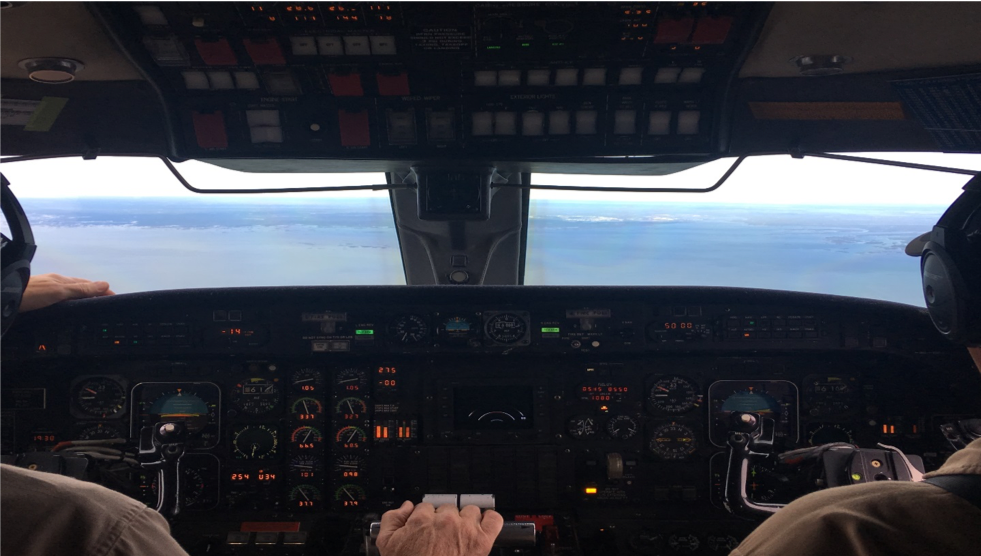 When flying above target areas, the pilots had to position the plane precisely on the designated lines to trigger the L-band SAR on the bottom of the plane, which would put the aircraft on autopilot mode and allow the sensor to "fly" the plane for the entire length of scanning the line. Once the scan was complete, the pilots would then take control of the plane again. The precision and accuracy for all those things to work in tandem was extraordinary to witness.
After the last scan, I hopped into the jump seat directly behind the pilots and watched them land the plane. Once on the ground, we were greeted by reporters with Cabin Radio (a local NWT radio station) who interviewed us and took our pictures with the Gulfstream III jet in the background. It was an absolute honor and a once-in-a-lifetime experience that I will never forget.
Fortunately, our incredible journey with NASA wasn't yet complete. Joanne and I tagged along with two scientists, Paul Siqueira and Bruce Chapman, who are helping to build an Earth-orbiting satellite called the NASA-ISRO Synthetic Aperture Radar, or NISAR. We met up with Paul and Bruce early on the morning of August 24 and identified two lakes located just off the Ingraham Trail, a few kilometers outside of Yellowknife, to collect data that will help in the creation of algorithms to capture and interpret wetland and inundated sites via satellite and remote sensing.
We reached the shores of the first lake and split into two groups, one scientist and one student per group. We walked in separate directions in areas of inundation between the open water and the treeline surrounding the lake and took measurements using an infrared laser for accurate distances between the treeline and open water and made estimations and diagrams to fully detail the ground view.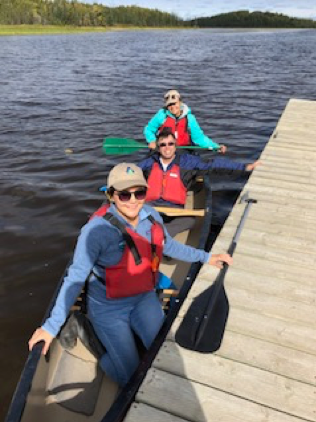 We tackled the second lake with a canoe and could not have asked for better weather. We enjoyed our afternoon bathed in the sun. The waterfowl and minnows shared their home with us for a time. During our canoe ride, we learned a lot more about our scientist friends. They were part of a launch that carried some of the first remote sensing technology into space. This technology was then used to study the surface of Venus and Mars. How fortunate were Joanne and I to be able to listen and learn from such a brilliant crew of scientists who have had amazing careers.
It was an enriching and humbling experience to participate in the ABoVE project. If an organization such as NASA realizes that indigenous traditional knowledge is both valid and important, then I am hopeful for our next generation of indigenous people. I believe that this is the first step in reconciliation: acknowledgment and appreciation. I would be honoured to participate again; however, I am more than grateful to know that there is this collaboration happening and that it includes the indigenous Dene of the north.
Mahsi Cho (thank you)!
This piece was adapted from NASA's Earth Expeditions blog.