NASA CLIMATE DAY
Bringing Scientists, Students and Communities Together to Promote Global Climate Literacy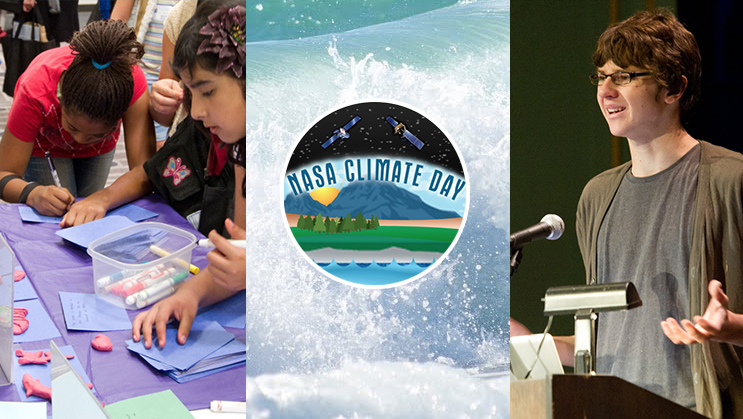 Announcing NASA/JPL Climate Day 2014
A free, climate education event for Los Angeles area middle and high school students
NASA Climate Day and Climate Day Events
Global climate change is a significant phenomenon that humans around the globe have impacted to varying degrees. It continues to be a hot topic scientifically, politically, and socially, and people of all ages and socioeconomic levels are being affected knowingly or unknowingly by the results of debates being played out everyday about this issue. For the general public to be able to address the topic and make informed decisions and choices, they must be able to separate fact from fiction and should understand their individual role in global change.
In 2008, NASA's Jet Propulsion Laboratory envisioned and hosted the first Climate Day event, targeting schools and communities to educate and raise awareness of climate change. JPL Climate Day events provide the latest scientific climate research and share NASA's contributions to the body of knowledge on this topic.
In 2010, NASA funded a multi-center proposal to develop a nation-wide NASA Climate Day program consisting of a 3-pronged approach to improving climate literacy in the United States. Climate Day events are held across the nation, either as individually distinct events, or in conjunction with other Earth science formal and informal education events. NASA Climate Day events are implemented through a network of carefully selected and trained Earth Ambassadors who make use of an electronic Climate Day "Kit" comprised of NASA resources related directly to climate science and suitable for education and public outreach on climate and climate change.