April 25, 2013, 09:03 PDT
Thoughts on finding a better way to engage people in science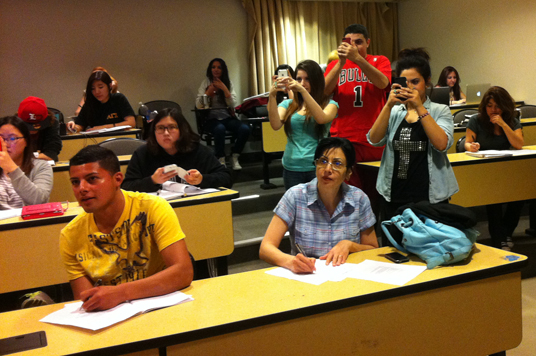 Laura Faye Tenenbaum is a science communicator at NASA's Jet Propulsion Laboratory and teaches oceanography at Glendale Community College.
I spend a lot of time asking students, audiences at speaking engagements, and other members of the public about their thoughts on science and I've noticed a theme that runs across all education levels, from deans and education administrators to lawyers and college students. "Sure, I like science," people sigh, or "I used to like science when I was a kid."
Often I hear positive descriptions of science: "It's creative, fun, open, and interesting," muddled with tired, old stereotypes: "Science is sterile, movies portray scientists as loners lacking social skills, it's too complicated, I'm just not good at science."
In the last few years, there has been an upsurge of websites, outreach opportunities, new media products and treatises about ways to improve public perception and public engagement in science. Nevertheless, the relationship between the public and the scientific community remains estranged. Scientific and academic communities have the habit of focusing inward, seeking engagement from those who are already engaged, while overlooking a portion of the public that feels cut off.
Professors are still in the outdated habit of failing half the class as a protocol to promote rigor, and our scientific community is made up of those who found a way to conform in this atmosphere. Failed students don't merely vanish: they become our neighbors, our fellow citizens. They influence society. As a community of scientists and science educators, are they failing us or are we the ones who are failing them? Are we closing the door to people who may bring something creative, are we locking ourselves in?
Science-themed videos land in my inbox daily, tagged with notes like "this is great" on products that are boring or unmemorable and have few clicks. It's not enough for us to pat ourselves on the back for our excellent work; it's the public that ultimately judges the quality of our products. If you're presenting a talk and you look at the faces of your audience and their eyes are glazed or they're texting, then your talk is boring. If your online product isn't getting thousands of hits then you need to re-evaluate and make changes. You will know if your message resonates in a meaningful way if you get invited back, referred, liked, shared, and remembered.
We need to maintain the rigorous content of scientific principles while at the same time engage a broader audience so that the scientific message resonates in a more meaningful way for more people. Having a Ph.D. and doing research is one way to participate in science, but not the only way. Yes, our students and our public must raise the bar on their intellectual capacity, and who wouldn't want to participate in expanding their brainpower? But it's us—the scientists, communicators, and educators—who also need to raise our own standards and expand our own capacity to find a way to connect.
April 17, 2013, 08:28 PDT
Arnold urges the Southwest to heed scientists' warnings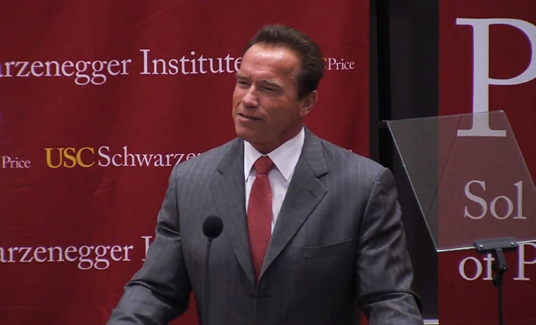 Guest blogger Holly Shaftel is climate.nasa.gov's editorial assistant and social media specialist. She is pursuing a master's degree in public administration at USC.
"As I get a little bit older and wiser, I realize that I'm less and less of a machine."

In case you couldn't guess, those words came from "The Governator," or the former California Gov. Arnold Schwarzenegger, who hosted a public comment forum that I attended last week at the University of Southern California (USC) for the recently drafted National Climate Assessment Report. The report focuses on climate change's projected impacts on the U.S., and this forum brought attention to the Southwest (our country's hottest and driest region).
As I sat amongst a suit-wearing, predominantly male audience, the atmosphere felt somewhat stiff. But the Governator's quip seemed to put us at ease before we began to absorb the findings on this serious, life-threatening matter.
The chairman of the USC Schwarzenegger Institute (in partnership with the USC Center for Sustainable Cities) likened the report to a doctor's yearly physical—only the doctors, in this case, are climate researchers.
"The National Climate Assessment is our physical," he said, underscoring the need to listen to expert diagnoses before the country has its own "heart attack."
The "doctors" at the April 8 forum covered many critical issues. The quantity of information was overwhelming at times, but here were a few predictions that stood out. For example, if we continue at the current emissions rate:
"Megafires," which burned between 40,000 and 60,000 acres in Arizona and New Mexico in 2011, will likely occur more frequently and rampantly.
The bark beetle epidemic, for which drought and high temperatures create favorable conditions, will kill off more trees ("forest thinning") of all breeds and elevations.
Aggravated urban irrigation water shortages, which could shift Southwest crop demands northward, will likely "displace growers and impact communities."1
Average temperatures will climb in the Southwest as much as 9.5 degrees Fahrenheit by 2100 (based on 1971 and 1999 data).2
Furthermore, I'm guessing prospects for the land of golden opportunities (or, as The Governator calls it, "Cah-lee-for-nee-uh") were particularly interesting to the room, not only because it's our home, but also because of our state's gargantuan economy. Here are two examples of what could happen to California:
Winter flooding, erosion, and sea level rise will impact the coast. "All these tech giants are vulnerable," a Bay Area-based co-author remarked, referring to Silicon Valley organizations, like Apple and Google, whose communication products many rely on every day.
High surface temperatures will likely increase mortality rates, particularly for children up to 5 years old and for people of color in impoverished communities.
These are just some examples of the probable forthcoming damage. By the end of the talk, a part of me wanted to bury my head in sand to cease listening to these grueling findings. But on the flip side, I knew that wouldn't do me—or anyone on this majestic planet—any good.
I listened to the commentators from political, private, scientific, and academic (students and professors) backgrounds, and their views often aligned with what The Governator implied: If we don't take care of ourselves and our planet by following expert advice, we could end up in an irreversible situation. It's simple wisdom, and I got the vibe that many were willing to move forward to help avoid those worst-case scenarios.
References
National Climate Assessment Report, Chapter 20, p. 702
Ibid., Chapter 20, p. 689